The Father's Home
Full funding for the Father's house in Danang (at present there are 12 moms and 12 babies)
Up to now, GIBTKs have helped 59 babies.
In Vietnam, due to cultural shame, a young unwed girl is often rejected by her family and/or village. The Father's House provides a safe home filled with love, acceptance and encouragement. Along with basic needs and medical care, she will have an opportunity to complete her education or training so she may provide for herself and her child, and ultimately transform both their lives.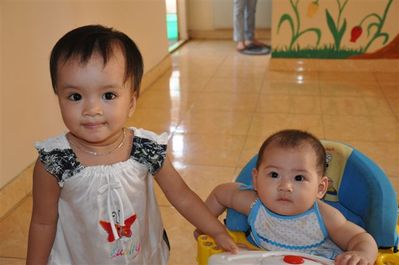 Mother's are encouraged to move into The Father's House as soon as possible. In the home the scared, expectant, mother will be taken care of nutritionally, medically and in an environment to nurture her emotionally. Giving it Back to Kids' hope is to provide a safe and secure environment for these young mothers to be able to have the freedom to choose if they want to keep their child, free from undue outside influence. The mothers must agree to stay at least 6 months after the birth of their baby. She's expected to follow all of the house rules, be active in the house, and learn to take care of her new born. If the mother decides to stay beyond 6 months she must be actively pursuing either an education, or a higher level of vocational training. In a word, something that will allow her to raise her child with some financial dignity. As the mother feels comfortable with the idea, we will work to reunite her with her family. Often, the mother has married the fathers of their child. When a young mother sees what it takes to raise a child, and decides that she is too young or it is too much, we work with local officials to make sure the child gets placed into a safe environment; a place we can be sure the baby will not be sold off to traffickers or be abandoned. It has been a great joy to see this program in its infancy, to see mothers reunited with their parents, several marrying the father of their child, and others gain self respect in learning to take care of themselves and their child.
Robert Kalatschan