Mary's Home
Mary's House is the creation of Jen Flynn, an American volunteer who lived in Vietnam from 2008-2010. She wanted to provide a safe place for disadvantaged kids to be well taken care of and receive an education. Jen inspired over a dozen former volunteers from around the world and other friends and family members to fund raise, making Mary's house a reality in January 2012. Jen named the house after her grandmother, Mary Ciccaglione, who inspired her to travel and live a full life.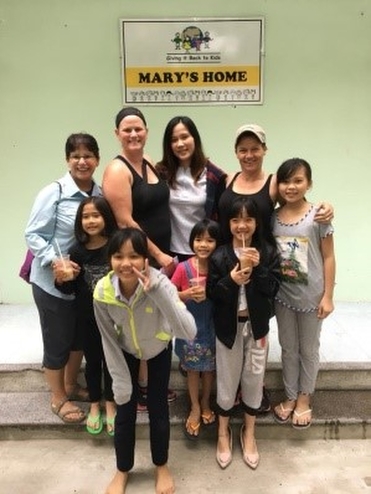 Mary's House Mary's House opened in January of 2012. Jen Flynn, a long time supporter and partner of Giving it Back to Kids, had a dream about opening a home for kids in Da Nang and naming it for her grandmother, Mary. Mary was a loving and strong influence in Jen's life encouraging her to travel, to learn, and to experience life to the fullest!
Within a few months, along with many friends and contacts around the globe, Jen raised the funding to open and operate Mary's House for the first year!

Living in this home are 24 children ranging in age from 4- 17 years old. The children come to Mary's House through a referral by the local government. Our Staff at Giving it Back to Kids conducts the intake interviews. Many children are orphaned, some have a single parent or relative who has taken them in, but all are impoverished.
At this point, their hope for a future beyond poverty is bleak.

Mary's House provides the opportunity to live in a safe, loving, home environment, far from the poor conditions of their former situations. They will have consistent nutrition, education, and health care. Two live-in housemothers care for the children, prepare meals and oversee any needs of the home A Giving it Back to Kids staff person is the general manager attending to purchasing, repair and maintenance, and preparing the annual budget.

Giving it Back to Kids and our partners are working diligently to improve and develop programs promoting the emotional health of the children in our homes.

Once 18 years old, they have the opportunity to live at The Lighthouse (for young women) or at Hal's Home (for young men) and to continue their education through our Tuition Program for college and universities, as well as a program for higher vocational training.