Carmela's Home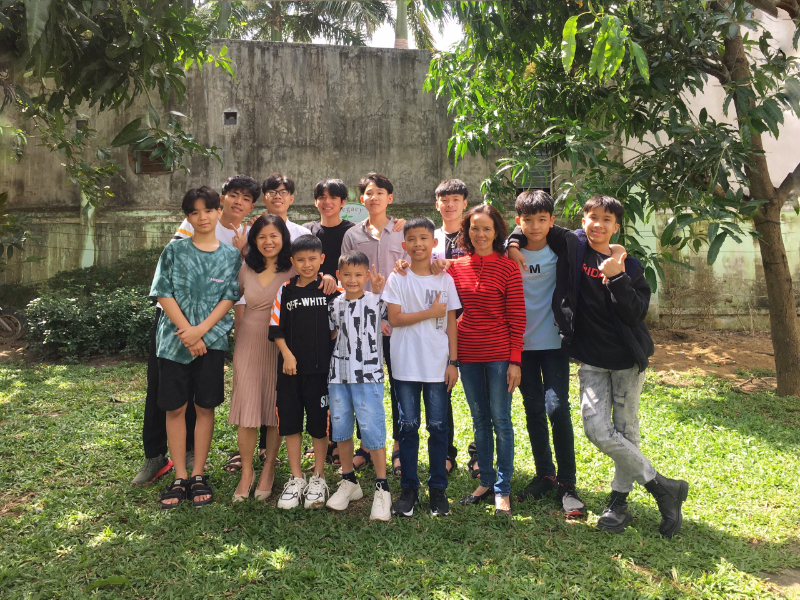 Carmela Houlihan was my late wife Dorothea's mom. When GIBTK was launched in April of 2002, Dorothea's mom was right there with us! She helped us put together our annual Gala Fundraiser every year. She knitted scarves and made beaded book markers to raise funds. Carmela was one of our biggest cheerleaders.
Full Funding for Carmella's Home since August, 2012 (11 children)
Carmela had a long time dream to visit the children in Vietnam, but some serious health issues presented obstacles. Before she passed away in April of 2012, we asked what she thought about naming a children's home for her and she was humbly honored! After Carmela passed away, friends and family raised funds to open this home.
In June of 2012 , Carmela's home was opened with 17 children whose parents and relatives could no longer care for them, or afford to send them to school.
Much like Mary 's House, the children come to Carmela's home by referral of the local authorities. They are interviewed by our team at Giving it Back to Kids. The may have parents or no parents, or they may be living with a relative or family friend.
Carmela's Home provides a safe, loving environment for these kids to grow up and go to school. A live in house mother prepares meals and oversees the care of the children. A GIBTK Staff member generally manages the operation of the home. Education, nutrition, medical care and love are found here until they reach the age of 18.
Once 18, they have the opportunity to attend college, university, or a higher vocational training at our homes for young men or young women. Hal's Home is for men or The Light House for women.
Sponsorships for children living at Carmela's Home, or young men or women finishing their education is available.
Thank you for considering support.