A Mother's Love

Our newest program at GIBTK Project Legacy is "A Mother's Love". It is an outreach program for young unwed mothers in the local communities of Danang. This program has been carefully created with sensitivity to the cultural characteristics of these communities and the challenges and stigmas that these young moms face.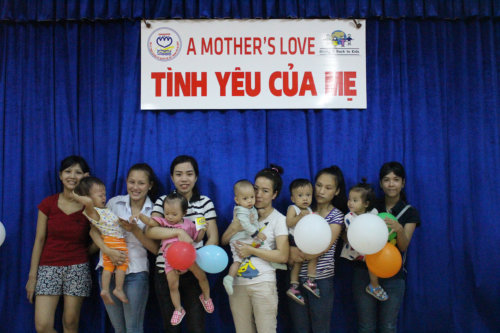 A Mothers Love is a safe place to gather every week for 2 hours, to build friendships, and to grow in maturity and knowledge with other young moms in their community. It is a place of encouragement, not judgment. It is a place to have a voice and be known for who you are, and what your dreams and goals are for the future of yourself and child. A place to be challenged and gain confidence in being a young mom, and a young woman through lessons on personal growth, child development, and life skills. A community to gain access and information to higher education, training and to encourage self-sufficiency. This is accomplished through volunteer speakers from local universities and health care professionals from local hospitals, along with mentors and volunteers and GIBTK staff members.
While the moms are spending time together, their children are cared for in an age appropriate environment with loving childcare, singing, playing and story time, depending on their age and stage of development.