Medical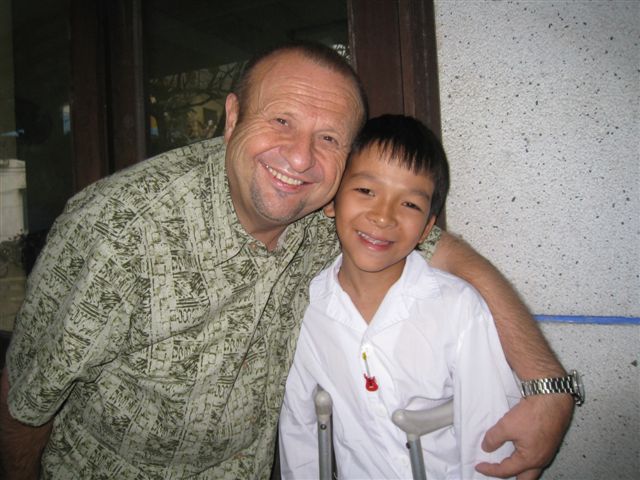 Basic medical care is offered at little or no cost. Medicines, tests, x-rays, CTscans, many surgeries, prosthetic, crutches, wheelchairs, needed food and vitamins are not. Any special procedure must be paid for by the patient. Giving It Back To Kids is able to come along side and help children from poor families in several areas. Some of these are: Corrective orthopedic surgeries; there are many children who live with correctable deformities and injuries. In many countries cleft pallets and club feet are corrected at birth. Not so in Vietnam. Giving It Back To Kids is able to fund a cleft pallet surgery for as little as $60 or do a corrective surgery that will allow a child to walk for a few hundred dollars. This fund also covers other types of birth defects and injuries from accidents.

Our organization has funded Life Saving heart surgeries, costing from $2,500.00-$3,000.00 What's a child's life worth? Personally, It is difficult to find the words to tell you what it feels like to see a child take his first steps unassisted, or to see the look in a parent's eyes when they discover that someone is going to provide the funds for a surgery that will allow their child to live. WOW! In many of the orphanages the children have enough to eat, yet they are undernourished. After questioning a doctor in the orphanage as to what I could bring her in the way of a personal gift, she repeatedly answered "Antibiotics and Vitamins for the children." Giving It Back To Kids has established several ongoing funds that enable the orphans to have regular supplements and access to antibiotics when they are needed. As with housing, a little goes a long way.
Here are examples of the cost (in US dollars) of some badly needed medical-related items and surgical procedures for children in need and how many we have provided funding for to date:
707​ Heart Surgeries
Cost $2,500.00 ea.
8206​ Orthopedic
Surgeries
Cost $425.00 ea.
98 Eye Surgeries
Cost $400.00 ea.
As you can see, a little really does go a long way toward making a difference in the lives of less fortunate children.