About Us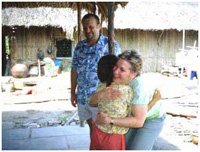 In January of 1997, after several failed attempts to conceive a child, we adopted our first child, Thomas Christopher. This beautiful baby boy was such a long awaited gift! A few years later we were looking to adopt another child, a sibling for our son. We searched in the states for another baby without success. Just when we were about to give up, we considered an international adoption. Our son is of Vietnamese decent, so our hearts looked to Vietnam. A door opened very clearly for us in the fall of 2000.

In the summer of 2001 we were on our way to an orphanage in the heart of Ho Chi Minh City to meet our new daughter, Kristina Corbett. AT LAST!!! Our paper work was being completed and we were getting to know our precious baby girl. During our stay in Vietnam, the opportunity came for us to visit other orphanages and child centers in the surrounding villages. What we saw crushed our hearts. Rooms were filled with little babies and small children whose stories varied, yet who shared poverty and enormous need. Children are able to stay here until age 16 but often leave earlier for a life on the streets.
As we looked into the face of our new daughter, we realized that she would soon experience all the opportunities of a new life, unlike most of these children who may never even have basic needs met for medical care, nutrition, education, and love. Somehow we knew we had to reach out and make a difference in the lives of these kids in Vietnam.
We returned home to Southern California with Kristina and settled in to life with her and Thomas. Images of children in desperate need continued to haunt us. There was that boy who couldn't walk, having to wait till next year, when maybe funds would come for the "very expensive" surgery ($800) , that would change his life .We saw kids who would scoot around on the floor because there were no wheelchairs for children.
We kept remembering the kids who were in need of heart surgeries, whose parents could never afford the $1500-$2500 it would take to help them live.
It became clear to us that a little money used with a high degree of integrity and accountability could accomplish a great deal for these children! In April of 2002, we filed the necessary documents for our non-profit and 501c status. Giving It Back To Kids was born. A board of directors was formed, and continues to meet. By God's hand and because others have shared this vision, GIBTK is growing. The projects we've been involved with are outlined in the pages that follow. We invite you to take a look.
With God's direction, we look forward to helping make a difference in the lives of children in increasing numbers as the years go on.
Thanks for reading,

Robert & Dorothea Kalatschan